Eva Seeds and the terpenes revolution, Spannabis 2017.
Those of you who could not attend Spannabis 2017 have missed a historic date in which EVA SEEDS  together with CALI  TERPENES have started a revolution in the cannabis world.
We are very proud of being the first seeds bank to offer the public terpenes of their varieties.
The new products presented in premier in this edition of Spannabis 2017 by Eva Seeds in cooperation with Cali Terpenes, are terpenes 100% natural and pure with specific profiles of each of our cannabis varieties.  Our terpenes are 100% free of cannabinoids and impurities common to the extraction of terpenes direct from cannabis, as for their elaboration, the same terpenes are used, although from other plants. These are not copies, but faithful reconstructions even more perfect and clean than the original extracted from cannabis. Something original can not often be improved, yet this is one of those times.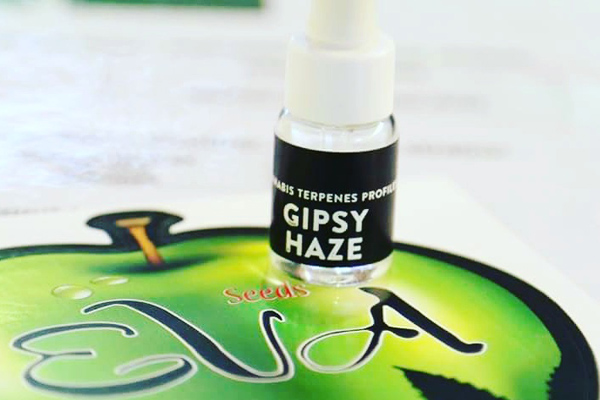 Terpenes are responsible for the smell and flavour of marijuana, as well as being the main component of the essential oils of some plants and flowers, such as the orange tree, the lemon tree and, of course, the cannabis plant.  Moreover, terpenes act as natural diluents, so they are capable of diluting any extract, oil or resin.
These products, which CALI TERPENES has already been marketing for months in the American market, are presented in liquid format and have an exact profile of the results of the analysis of GC and EM of specific cannabis strains, like for example Gipsy Haze, one of the most sold cannabis terpenes profiles in Spannabis 2017.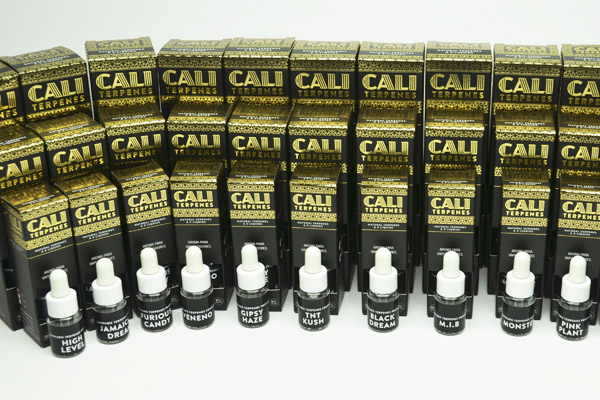 AND…WHAT ARE OUR TERPENES USED FOR?
To add aroma and flavour to high-purity extracts which have lost the terpenes during the purification processes.  Some examples could be the so called "dab pens", which are mainly marketed in the states with legal marijuana in the United States, which contain a  "Clear" type extract or an extraction through CO2, both with added terpenes.
Terpenes do not contain cannabinoids, yet act as modulator of the effect of cannabinoids such as THC. For example, adding terpenes of the sativa variety such as Jamaican Dream to a Clear type distillate extract of approximately 86% of THC, you will obtain an extract with stimulating and energetic effect, with Jamaican Dream aroma and flavour. However, if we add terpenes of an indic variety such as TNT Kush, the result would be an extract with relaxing effect with a TNT Kush flavour and aroma.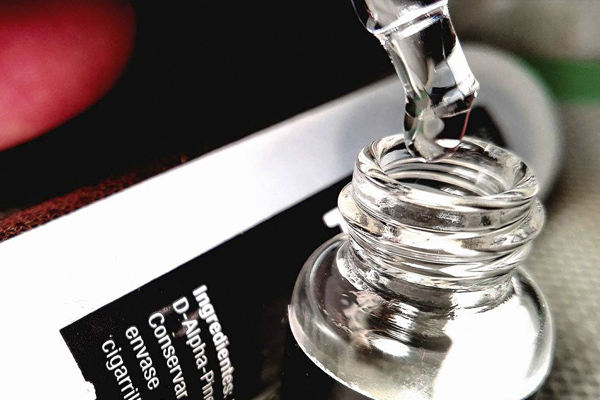 Our terpenes are also ideal to add flavour and aroma of specific varieties of cannabis to electronic cigarettes vaporising liquids, the so called e-liquids, glycerines, propylene glycol and other vaporisation bases. In this way, you could enjoy the authentic flavour and aroma of your favourite varieties without having to feel the effect of each one.
Our terpenes can be used in multiple applications, including aromatherapy.
MAIN CHARACTERISTICS OF EVA SEED'S TERPENES:
100% pure terpenes.
Terpenes 100% natural and free of solvents or heavy metals.
Terpenes 100% free of THC, CBD or any other cannabinoid, so it is a 100% legal product and can be sent all over the world.
Terpenes 100% free of Propylene glycol, Ethylene glycol, glycerines or other bases.
Terpenes suitable for aromatherapy.
Our terpenes are certified "Food Grade", "Kosher" and "Halal", as well as complying with the European vaporisation regulations.
Terpenes extracted in a natural way with ecological methods and without solvents such as Ethanol, Co2 or methanol.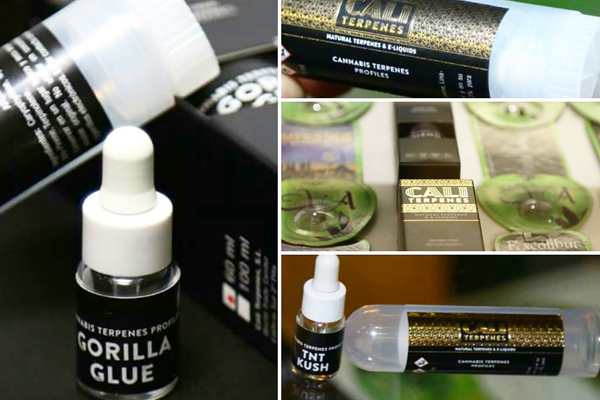 HOW TO USE OUR TERPENES:
We recommend using a maximum of 4% of terpenes for each gram of extraction, resin, oil or vaporisable liquid base.
Do NOT ingest directly.  Do NOT vaporise directly. Avoid contact with skin and eyes.
Store in a cool, dry place away from sources of heat and in their original container.
Every 1 ml contains between 20 to 30 drops (depending on the size of the dropper).
If you have any queries about how terpenes work you can consult it with the technical team of Eva Seeds via email or social networks and also through the website of Caliterpenes www.caliterpenes.com
Once again, many thanks to you all for appreciating our hard work to give our best, year after year.
Below is the summary video of Spannabis 2017, by Eva Seeds: